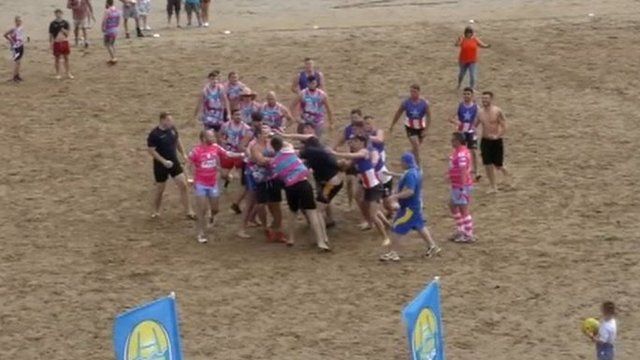 Video
Swansea beach rugby brawl 'blown out of proportion'
Four clubs have been banned from a beach rugby tournament after fighting broke out during two matches.
Both games at the 11th Beach Rugby Wales in Swansea were abandoned and the teams were disqualified after on-site security and police stepped in to break up the brawls. No arrests were made.
The teams involved included Ferndale, Rhigos, Porth and Wattstown.
This video footage shows the trouble on Swansea Bay beach on Saturday.
But organiser Ashleigh Walters insisted the incident had been "blown out of proportion".
"This is rugby and it was dealt with on the pitch. The video does show fighting, but what you don't see is the players walk off the pitch and shake hands and sit down next to each other on the terraces," he said.
Mr Walters hopes the event will be allowed to go ahead in future. South Wales Police said it had received no complaints.