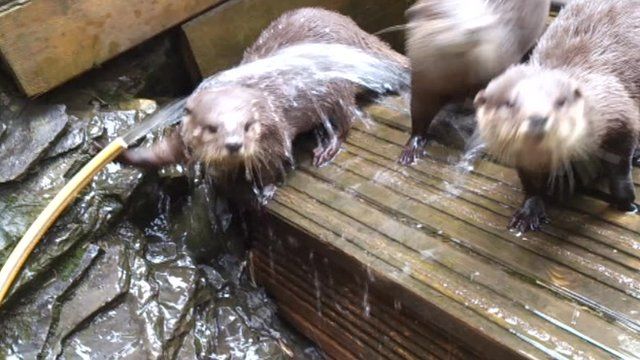 Video
Otters keep cool on the hottest day in Wales
As Wales enjoys its hottest day of the year so far, animals at the Welsh Mountain Zoo near Colwyn Bay in Conwy county have been keeping cool.
The snow leopards with their thick fur are affected most by the heat and to ensure they stay hydrated, keepers at the zoo have been freezing their food inside chunks of ice for the animals to gnaw on.
Other animal such as the chimps and lemurs have their own ice lolly versions which are frozen and packed with lots of fruit.
The otters have been enjoying the water being sprayed onto them from a hosepipe.
Peter Litherland, of the Welsh Mountain Zoo, said: "We also have sprinklers in several of the enclosures spraying cool water throughout the day."
Tuesday recorded the hottest temperature of the year in Wales so far, with highs of 32.4 C (90.3F) in Porthmadog, Gwynedd, and Cardiff.
Go to next video: Hot air sends farm's hay into spin