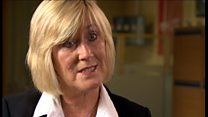 Video
Boy's scurvy death: Home-schooled children 'need a voice'
Wales should have a register of all children educated at home, says a report into an eight-year-old boy who died from scurvy.
Dylan Seabridge became ill at his family's isolated farmhouse in Pembrokeshire and died in 2011.
A child practice review found that the boy had no direct contact with agencies such as doctors, nurses and teachers from the age of 13 months.
His parents, from Dolau in Eglwyswrw, disputed the findings of an inquest conclusion of scurvy, a condition caused by the lack of vitamin C. They said they believed he was suffering from growing pains.
The report said they chose not to engage with the independent review, and it was "their strongly held view that the review should not go ahead".
The Welsh Government said it would carefully consider the findings of the report, written by Gladys Rhodes White.
She said new legislation focusing on home-schooled children should be considered.