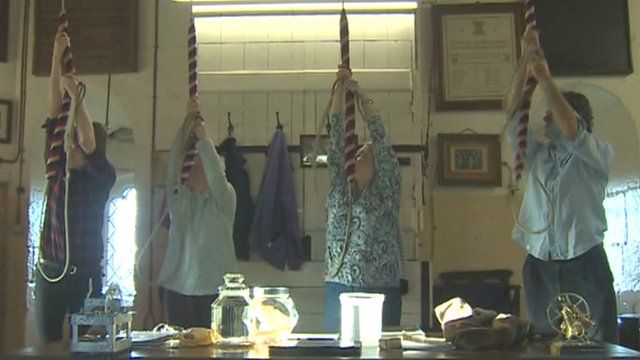 Video
Wrexham parish church bells ring out after repairs
Historic bells at Wrexham parish church have been restored to their former glory almost 300 years after they went into service.
Bell ringers at St Giles launched an appeal last year to fund repairs, saying they needed an overhaul as they were last restored 60 years ago.
The church has 10 bells which were cast in 1726 and weigh up to 1.2 tonnes.
The bells were cast in Gloucester and transported up the river Severn to Shrewsbury and then taken by road to Wrexham before being hoisted into place in the medieval church's tower.
They had to be removed, repaired and put place into place by specialists.
The tower is one of the Seven Wonders of Wales, a rhyme written in the 18th Century and which lists other important landmarks in north Wales.
Matthew Richards reports.
Go to next video: Church bells need £10,000 repair work