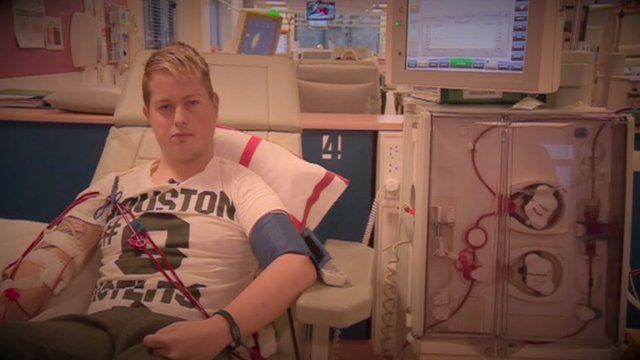 Video
Organ donation: 21-year-old says dialysis makes a job impossible
A 21-year-old from Bridgend has said kidney dialysis makes it "impossible" for him to hold down a job.
Sam Scothern had a kidney transplant at the age of nine, but it failed when he turned 18.
To keep flushing the toxins out of his body, Mr Scothern goes on dialysis three times a week.
But not knowing how he will feel after treatment means going to work is out of the question, he said.
Mr Scothern told BBC Wales that over the past few years his heart has stopped twice, and he has endured four induced comas and 16 seizures.
He said a transplant would transform his life, and from Tuesday, adults in Wales will be regarded as having consented to organ donation unless they have opted out.
It is the first nation in the UK to introduce such a system in a bid to increase the number of organ donors.
Go to next video: New organ donation rules 'brilliant'