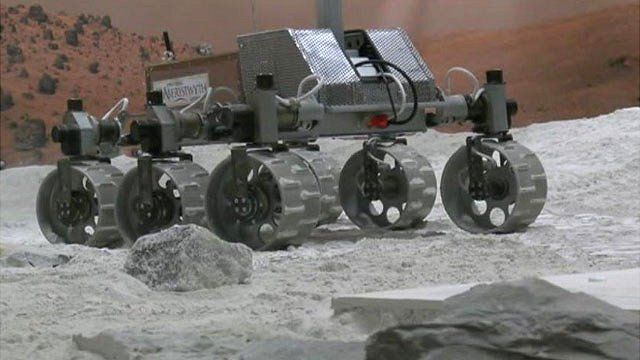 Video
Aberystwyth University's drive for 'smarter' Mars robots
Wales has been set a 15-year mission - to boldly go for a £2bn a year share of the space industry.
Clusters of "space activity" involving aerospace and technology firms working with university research centres would be developed in a new strategy from the Aerospace Wales Forum.
The aim is for Wales to generate 5% of the UK space industry by 2030.
The growing importance of the market for unmanned aerospace and satellite technology is also recognised.
Scientists at Aberystwyth University have already been involved in the development of the Mars rover vehicle, as well as the earlier Beagle 2 mission.
They are now involved in the European Space Agency's ExoMars mission set for 2018 to look for signs of life on the planet and they will calibrate the cameras and turn the raw data into useful scientific results.
Dr Lawrence Tyler, research associate in the university's space robotics group, explains what they are doing.
Go to next video: The mystery of the missing space probe