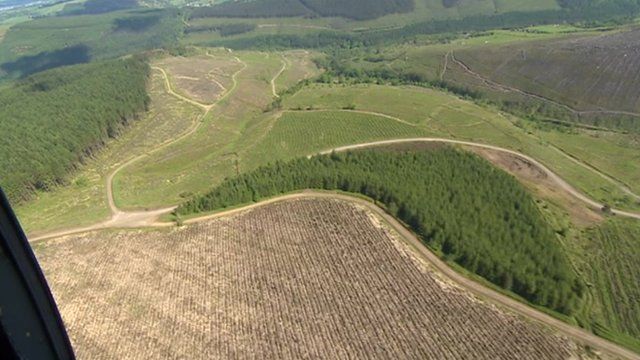 Video
Bird's eye view of larch disease area for NRW
Helicopters are being used to track the spread of a disease affecting larch trees across forests in Wales.
The aerial surveys conducted by Natural Resources Wales (NRW) suggest the disease may not have spread as much as in previous years.
This year 10 sites containing 40,000 trees are under further investigation. In 2013, NRW found around 3m trees over 3,000 hectares were affected.
Wet weather in 2012 could have helped phytophthora ramorum spores to spread.
BBC Wales environment correspondent Iolo ap Dafydd went up in a helicopter with NRW's Owen Thurgate to look at some of the areas affected.
Go to next video: Trees in ancient forest are felled