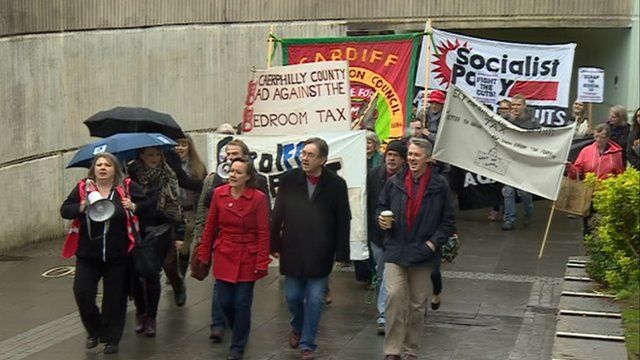 Video
About 200 join Cardiff protest over benefit changes
Householders, union members, politicians and clergy were among almost 200 marchers taking part in a protest in Cardiff against the UK government's so-called "bedroom tax".
Organisations taking part included the Church in Wales, Shelter Cymru, Unite and Unison unions as well as The Islamic Welfare Association and tenants' representatives.
The UK government cut housing benefit last year for those judged to have too many rooms for their needs, with the aim of encouraging them to move to smaller properties, saying tenants have enjoyed a "spare room subsidy" and the new system was fairer.
Go to next video: 'Bedroom tax' disability cost 'waste'