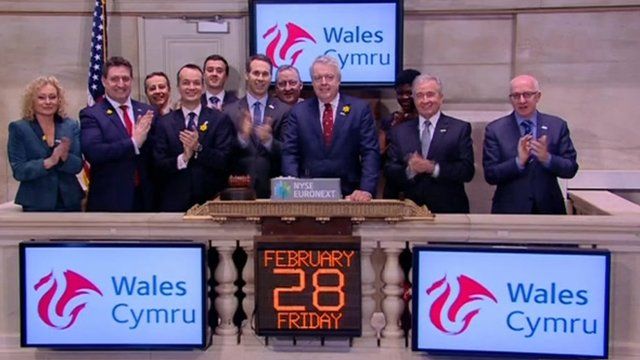 Video
Carwyn Jones celebrates St David's Day early on Wall Street
First Minister of Wales Carwyn Jones has celebrated St David's Day a day early by ringing the opening bell at the New York Stock Exchange (NYSE) on Wall Street.
Mr Jones is visiting the United States to raise the profile of Wales overseas.
He said: "It's an honour to open trading on the New York Stock exchange and to put Wales well and truly in the international spotlight ahead of St David's Day tomorrow," he said.
"Ringing the opening bell at the world's largest stock exchange on behalf of the people of Wales is symbolic. As a nation, we have shed old stereotypes to emerge as a strong contender in business."
Over the past year direct investment from foreign businesses into Wales has increased by almost 200 per cent, Mr Jones said.
"We can't wait for the world to come knocking at our door; we have to get out and show them what we have to offer," he added.