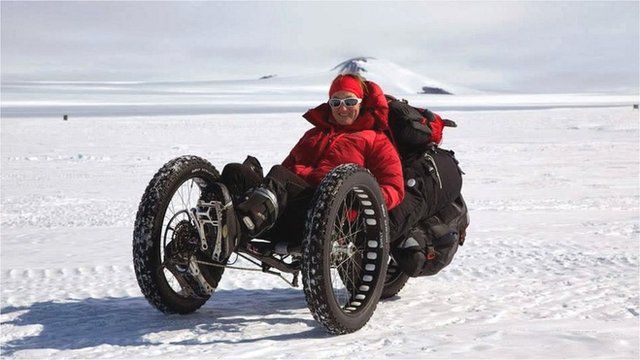 Video
South Pole cyclist Maria Leijerstam on battling injury
A woman from the Vale of Glamorgan, who became the first person to cycle to the South Pole, talks of how she battled a knee injury while completing her challenge.
Maria Leijerstam, 35, set off from the Novo Russian air force base on 16 December and completed the 500-mile (800km) challenge in just ten days.
She also beat two rivals, American Daniel Burton and Spaniard Juan Menendez Granados, in the challenge.
Ms Leijerstam, from Llantrithyd, chose a steeper but shorter route than her opponents, opting to tackle the Leverett Glacier where 100mph (160km/h) winds can create vast snow drifts and bring temperatures plummeting to -40C (-40F).
To do this she also had to use a drastically different bike to those favoured by her rivals.
While the men used upright two-wheel machines, Ms Leijerstam opted for a specially created three-wheel recumbent cycle.
With her she carried 45kg (100lbs) of food and equipment stored over the extra wide back wheels, which helped stabilise her in the icy conditions.
The front wheels could also be switched for skis to help negotiate snowdrifts.
Despite suffering an injury to her knee, she soldiered on and told Wales Today's Claire Summers that keeping her end goal in mind helped her complete the challenge.
Now back at home, she admits the enormity of her achievement has not yet sunk in.