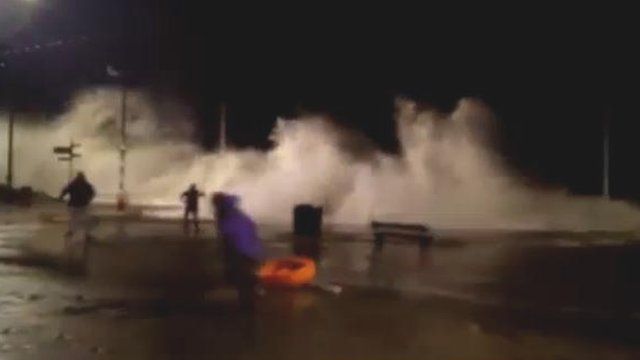 Video
Man swept over by wave on promenade at Aberystwyth
Emergency services have been warning people to stay away from watching the waves on the seafront during the storms and high tides.
It comes after a YouTube film shows someone being knocked off their feet by a wave at Aberystwyth last week.
Meanwhile, a 21-year-old man had to be rescued by lifeboat after becoming stranded while taking photographs of waves at the end of a wooden jetty in Aberystwyth on Saturday.
A spokesperson for Aberystwyth RNLI said: "Whilst the extreme sea conditions are attracting people to the coastline, we repeat our warning to the public stay safe and to keep away from the shore line and dangerous waves."
Go to next video: 250 evacuated over seafront floods