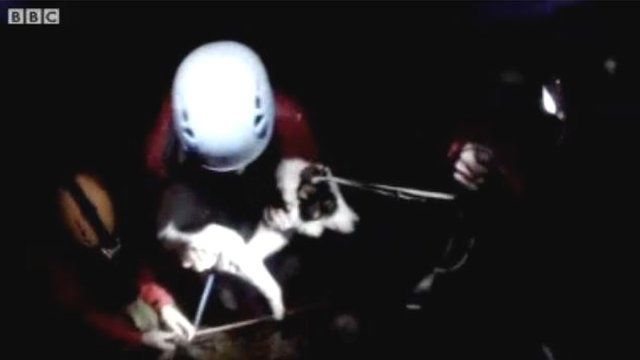 Video
Sheepdog Chip rescued from Snowdonia mountain crevice
Mountain rescuers have saved a sheepdog trapped in an 80ft (24m) crevice in Snowdonia.
Members of Llanberis Mountain Rescue Team dropped ropes as one member descended into the narrow gap on Snowdon to reach Chip the sheepdog, which had been lost by a farmer on Sunday morning while rounding up sheep.
Six team members joined him in the search for the collie at Clogwyn Mawr.
As the volunteers approached a steep crag the farmer heard whining within the mountain.
A woman rescuer, using torchlight, got within a few feet of the dog.
She then managed to attach a long pole with a clip at the end to Chip and they were both hauled to safety after more than two hours.
This film was recorded by rescuers' helmet cameras.
Go to next video: Witnesses describes mountain rescue