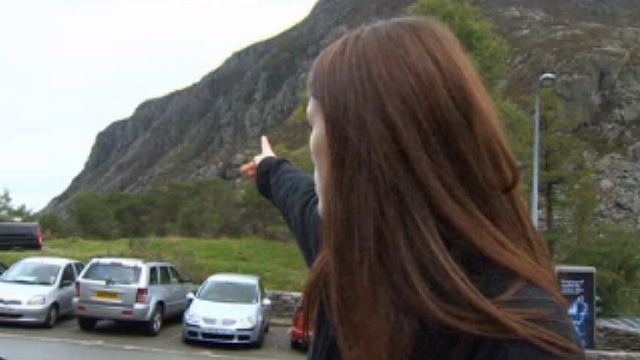 Video
Witnesses describes mountain rescue at Pen yr Ole Wen
A walker has been killed after falling from a cliff at a well known mountain spot in Snowdonia.
The man, in his 30s and believed to be from the south of England, died after dropping around 330ft (100m) from above Devil's Kitchen in the Ogwen Valley.
The alarm was raised by a party of five walkers in the area, who saw the casualty fall on to the path.
In an earlier incident in the same area, a rock climber had to have his leg amputated after a large block of stone collapsed.
The climber had been on a route at Pen yr Ole Wen in the Caerneddau range in the Ogwen Valley.
Mountain rescuers say the man-sized rock came away as the mountaineer stood on it, sending it some 500ft (150m) on to the A5 carriageway.
The climber suffered serious leg injuries and was airlifted to hospital.
The man, one of two climbers from the south of England, is currently being treated at a specialist unit in Stoke.
Alexandra Bailey Hughes, who works at a local cafe, called the police about the earlier incident and describes how it unfolded. There is also footage of the mountain where the climber was killed.
Rock fall injures Snowdonia climber