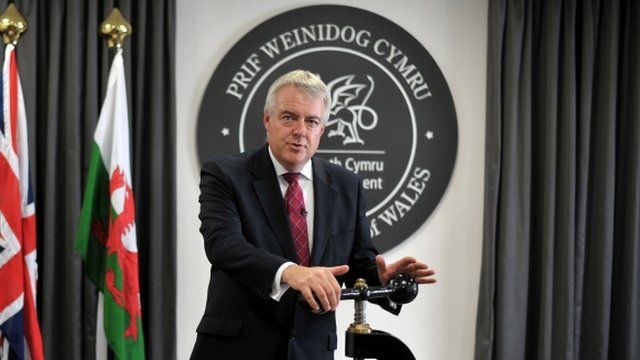 Video
Carwyn Jones's call to end devolution 'ad hoc tinkering'
Devolution has been "scattergun" and needs to move towards a "durable lasting settlement", according to First Minister Carwyn Jones.
In a speech in Cardiff on Tuesday he will say there should be an end to what he describes as 15 years of "ad hoc tinkering with the constitution".
Mr Jones will call for a new written UK constitution which favours devolution.
He will say that "where it makes sense to take a decision in Wales, it should be taken in Wales".
In the speech at the Pierhead Building in Cardiff Bay, he will also say that devolution should be "less of a process and more of an event" - a twist on the words made famous by former Welsh Secretary Ron Davies who described devolution as a "process not an event".
The speech comes a year and a day before people in Scotland will vote in a referendum on whether the country remains part of the UK.
BBC Radio Wales presenter Oliver Hides asked Mr Jones, on the Good Morning Wales programme, more about what he wanted to say in the speech.
Go to next video: Tories blamed for Welsh powers delay