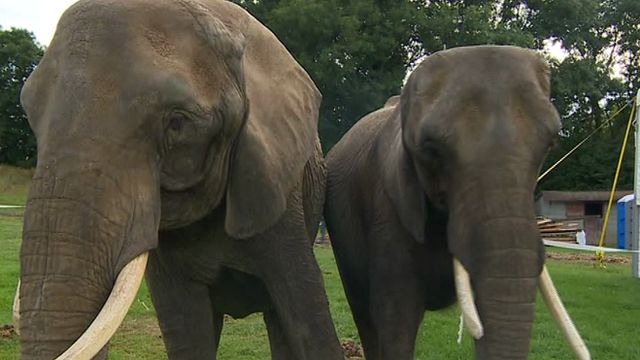 Video
Elephants in Tregaron, Ceredigion, 'surreal'
Two African elephants have been shipped from Germany to a small town in Ceredigion to star in a new film.
The animals are staying at Tregaron, a town which, according to folklore, is not unused to the large mammals.
Local folklore says that a Victorian travelling circus was visiting the area when one of the elephants, known locally as Jwmbi, fell ill after drinking contaminated water and died.
Its body is believed to be buried in the beer garden of the local pub, the Talbot Arms, in 1848, although it has never been found.
Producers of the film, which is loosely based on the story, say the animals' welfare has been paramount during filming.
The elephants' handler told BBC Wales they are settling into life in Tregaron, while the film's director Kevin Allen and one of its actors talk about working with the animals.