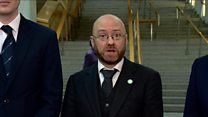 Video
Patrick Harvie says Greens not willing to see emergency cuts
Scottish Green co-leader Patrick Harvie has indicated that his party will do a deal with the SNP-led Holyrood government on its proposed budget.
A key debate and vote takes place on Thursday over spending and tax raising plans for the year ahead.
The minority nationalist administration will need the support of opposition MSPs in order to see through the budget.
Most parties have all but ruled out a deal, but Mr Harvie said he was not willing to see the budget fall.
He told the BBC's Politics Scotland programme: "If parties just dug their feet in and said 'my way or the highway' then the whole thing would fall and we would begin to see emergency cuts being made to public services across Scotland.
"I'm not willing to see that happen."