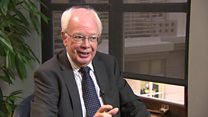 Video
Former Scottish law officer says Holyrood could have Brexit role
A former top law officer on Scotland believes the Scottish Parliament could have a role to play as European-related laws are dismantled and new ones created.
Lord Wallace, a former Advocate General who advised the Conservative-LibDem coalition, told BBC Scotland's Westminster correspondent, Nick Eardley: "They [the UK government] are going to have to re-enact everything.
"I think at that point there is clearly a role for the potential for a legislative consent motion because many of the things we are talking about impact the areas of devolved competence - farming, fishing, the environment - three you can reel off straight away."