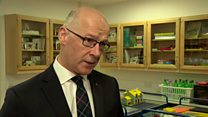 Video
Faster routes needed into teaching profession, says minister Swinney
Scotland's Education Secretary John Swinney has published 11 measures he hopes will encourage more people to join the teaching profession.
He told BBC Scotland: "What I want to do is make sure we can expand the entry into teacher education to address some of the challenges we face in different parts of Scotland.
"So in consultation with the colleges of education around Scotland we are announcing 11 different measures to encourage more people to come into the teaching profession, to have faster routes in, but to do that crucially under the scrutiny and supervision of the General Teaching Council to ensure that quality standards are maintained at all times."