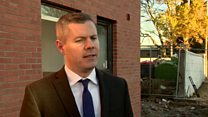 Video
Minister Mackay calls on chancellor to give 'single market certainty'
Scotland's Finance Secretary Derek Mackay has called on the UK chancellor to use his autumn statement to provide "greater certainty" over Britain's membership of Europe's single market.
Philip Hammond will be delivering his first key address as chancellor, a role he took on after voters in the UK backed leaving the European Union.
Speaking to BBC Scotland's political editor Brian Taylor, Mr Mackay also listed other things he wanted to see Mr Hammond do.
The SNP politician said: "The Scottish government have been asking for a number of things from the chancellor and the UK government, including more certainty for Scotland, not reopening for Scotland the settlement negatively; positive fiscal stimulus, particularly around capital investment "
In addition he urged a halt to "harmful cuts" to some of the "most vulnerable in our society".