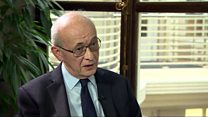 Video
Article 50 author Lord Kerr says Brexit could be stopped
The Scottish cross-bench peer who wrote Article 50 - the agreement which the UK would use to end its EU membership - said leaving was not inevitable.
Lord Kerr of Kinlochard told BBC Scotland political correspondent Glenn Campbell that leaving was "not irrevocable".
He added: "You can change your mind while the process is going on.
"During that period, if a country were to decide actually we don't want to leave after all, everybody would be very cross about it being a waste of time.
"They might try to extract a political price but legally they couldn't insist that you leave."
Go to next video: Why Article 50 was the 'dictator clause'