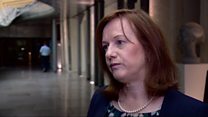 Video
SNP MSP Joan McAlpine warns of constitutional crisis over Brexit
SNP MSP Joan McAlpine has warned that there could be a constitutional crisis if Scotland were to be ignored during the of the UK exiting the EU.
Holyrood's Europe committee convener, Joan McAlpine, said MSPs needed to be consulted about the "Great Repeal Bill" planned by Theresa May's Conservative government.
She told BBC Scotland's political editor Brian Taylor: "I think there would be a huge constitutional crisis.
"I think it is really important to remember that Theresa May in this whole process when she became PM she started off on the right foot she came right to Scotland, she told us we were going to be involved, she wasn't going to trigger Article 50 until such time as she had a UK-wide agreement.
"Now she has gone ahead an said she is going to trigger Article 50, but she does not have UK-wide agreement."