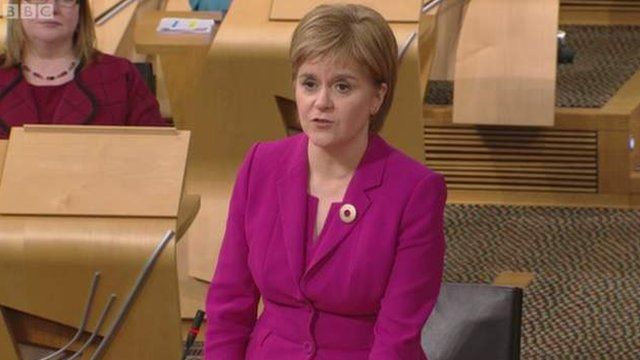 Video
FM Nicola Sturgeon says fiscal deal will see Scots budget maintained
Scotland's First Minister Nicola Sturgeon has told Holyrood that the fiscal framework deal will result in "not one penny" being taken from Scotland's budget.
The agreement, which is the financial basis for new powers to be devolved as part of the Scotland Bill, was settled after Mr Osborne spoke to Ms Sturgeon on the phone.
Following a formal announcement, the first minister said: "There has been give and take in these negotiations. We did not get everything we wanted.
"But when theses discussions began in June last year the Deputy First Minister faced a proposal from the Treasury which would have delivered £7bn of detriment to the Scottish budget over the next 10 years.
"During those negotiations we have made absolutely sure there will not be £7bn or £3bn of detriment.
"This deal will not allow a single pound, or even a penny, to be taken from the Scottish government's budget."
Go to next video: Osborne says fiscal deal is 'strong'