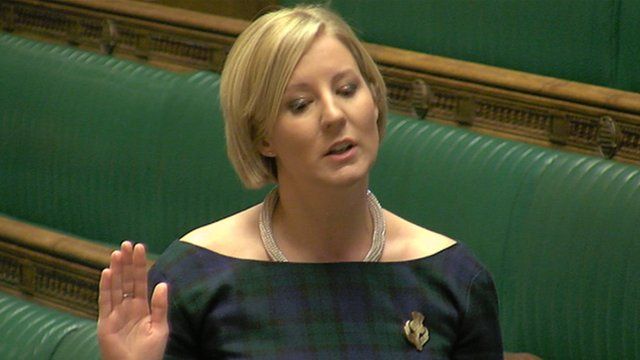 Video
SNP MP Hannah Bardell takes oath for second time
The SNP MP for Livingston, Hannah Bardell, takes her oath in the House of Commons for a second time after making a mistake on the first attempt.
The former GMTV producer promised to be "faithful and bear true allegiance to her Majesty, Elizabeth, her heirs and successors, according to law."
But other MPs pledged allegiance - as they are required - to Her Majesty "Queen" Elizabeth.
Ms Bardell said she went to the Commons clerks as soon as the error was brought to her attention and has now retaken her oath.
She told the BBC: "It was an emotional moment.
"The clerk didn't think it was an issue as it was obviously not intended."
Ms Bardell joked that she was "joining Obama" - a reference to the US President who had to retake his oath of office in 2009 after making a mistake at his inauguration.