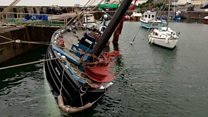 Video
Historic boat overturns during Johnhaven festival
A historic fishing vessel has been righted by experts after it overturned during a festival in Aberdeenshire.
A crew member was taken to hospital after the Reaper was blown over by a gust of wind in Johnshaven harbour on Saturday.
Organisers of the villages fishing festival had hoped that the 113-year-old boat's appearance would have been a highlight of the event.
Joan Paton, of the Scottish Fisheries Museum, told the BBC that she heard a crack and then the boat began to list to the side.
The full extent of the damage has yet to be assessed and doubt remains over how the boat will make the journey back to Anstruther.