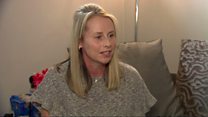 Video
'My brother's body has been lying in a mortuary for months'
The sister of a man whose body has been lying in a mortuary for the last five months has been speaking of her family's anguish at not being able to hold his funeral.
Amanda Digby's brother Paul Mathieson died in January, a week after he was attacked in Renfrew, but his body has still not been released to allow his family to arrange a funeral.
The situation is made worse by rules on post-mortem examinations which are particular to Scotland.
Ms Digby said: "This grieving process has been like no other, it's just been horrendous from day one. and we've not been able to have any closure, not been able to take that next step, not being able to lay Paul to rest.
"Thinking he has been lying in a mortuary for five months is just awful."