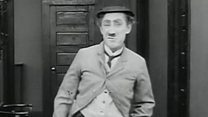 Video
Billie Ritchie: Scottish silent movie star forgotten by history
The story of the Scottish silent movie star largely forgotten by history will be celebrated at a film festival.
Billie Ritchie, who was born in Glasgow in 1877, made almost 70 films between 1914 and 1920.
He was accused of copying his act from Charlie Chaplin, as Chaplin appeared in movies before Ritchie, but Ritchie claims he was doing his act on stage long before the Englishman.
Ritchie died in 1921, and his story almost disappeared. His work will now be celebrated at the Hippodrome Silent Film Festival in Bo'ness.
Footage kindly supplied by The Blackhawk Collection.
Reporter/Producer - Graham Fraser