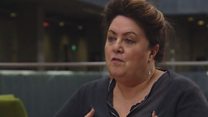 Video
Digital nurse fights fake cancer information
A charity is aiming to combat "fake news" about cancer on the internet by appointing a full-time nurse to provide accurate information.
Macmillan said two-fifths of people with cancer looked up information about their diagnosis on the internet.
It said unverified sites were often leaving patients needlessly frightened or trying bogus treatments.
A Glasgow-based nurse will now answer cancer questions through social media and the charity's website.
"Digital nurse" Ellen McPake said she was there to "make sure people affected by cancer have a real person they can turn to online for information about their symptoms, cancer diagnosis and treatment".