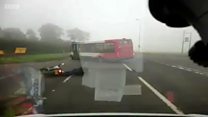 Video
Junction fears after motorbike slide
There are calls for traffic lights at a busy junction on the A90 in Aberdeenshire after a motorcyclist came off his bike.
Roadworks in the Balmedie area mean more traffic than usual is using the junction at Rashiereive.
Meetings are taking place with site representatives to discuss possible traffic lights and improved road markings.
A spokesman for Transport Scotland spokesman said safety was of the "utmost importance" and that any changes which were found to be necessary would be implemented to improve the junction.
A spokesman for Stagecoach North Scotland said: "Safety is our absolute priority. We are concerned to see this footage and our immediate thoughts are for the welfare of the motorcyclist involved. We are carrying out an investigation into the circumstances."
Footage: Andrew Beattie