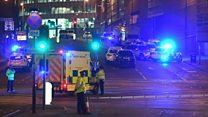 Video
Manchester attack: Aberdeen concert goers tell of terror
Two women from Aberdeen tell of the fear and confusion as an explosion killed 22 people and injured dozens more during an attack in Manchester.
Kerry Stewart and Terri Robertson were at the concert and were making their way to the exit when the blast happened.
They told the BBC: "We came out of the toilet, about to go to the exit, and there were hundreds of people started running towards us.
"When we turned round there were people running from the other direction towards us and we got pushed into a room with heaps of kegs of beer. Everyone was fighting each other to try and get out an exit but it was a dead end.
"It wasn't a loud noise that startled us. It was just like a noise that you would have thought was part of the concert, until everybody started running."
Appeals have been made for Laura MacIntyre and Eilidh MacLeod, from Barra, who have not been seen since the attack.
Greater Manchester Police said the lone male attacker, who died in the blast, was carrying an improvised explosive device which he detonated.
Go to next video: Sturgeon condemns 'callous attack'