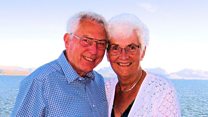 Video
Bookie honours winning bet from 1974 Grand National
A man who found a tatty winning betting slip from the 1974 Grand National has told the BBC of his astonishment when a bookmakers honoured the bet.
Bob Holmes, from Houston in Renfrewshire, was going through his dead father-in-law's paperwork when he noticed the betting slip.
Joe Robertson had placed a pound on Red Rum to win at odds of 11-1.
Bookmakers William Hill honoured the bet, adjusting the win for inflation to pay out £130, and gave Mr Holmes the same amount in free bets for this weekend's race.
Mr Holmes said it was the name of the legendary three times-National winner which caught his eye.
"We love this story. It shows that us bookies do have hearts. We are really glad Bob could collect his winnings," said Andy Bell from Freebets.org.