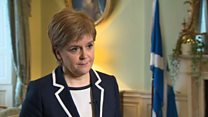 Video
Sturgeon: Scotland say in Brexit is 'matter of democratic principle'
Nicola Sturgeon says the Scottish government will propose legislation allowing Holyrood to have a say in the triggering of Article 50.
The Supreme Court had earlier ruled that the country's relationship with Europe is a matter for the UK government and that it was not necessary for devolved nations to have any say in Brexit negotiations.
The first minister disagreed and claimed it was a "matter of democratic principle".
Ms Sturgeon promised to bring forward a legislative consent motion to ensure the Scottish Parliament has a say in the triggering of Article 50 and in the scope of any agreement with the EU.
Go to next video: Court rules against Scottish government