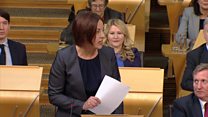 Video
FMQs clash over patient's 12-month waiting time
The case of a cataract patient facing a 12-month wait and being given advice on going to Europe for treatment has caused a stir during the opening first minister's questions of the year.
Kezia Dugdale raised the issue of waiting times and highlighted the case of a Nairn woman who had been told she would have to wait for a minimum of 12 months for an operation at Raigmore Hospital, Inverness.
First Minister Nicola Sturgeon said she could not comment on an individual case but insisted waiting times are lower than when the SNP took office.
The Scottish Labour leader said the government had admitted the wait was unacceptable.