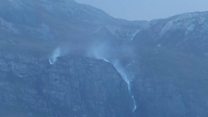 Video
Waterfall blown backwards and snow sideways in Torridon
Scotland has begun battening down the hatches in preparation for strong wind and snow across the country.
The Met Office has issued yellow 'be aware' warnings on Thursday and further snow on Friday.
Gusts of up to 77mph were recorded on Tiree on Wednesday and these pictures from Torridon show a
waterfall being blown back up a hill and snow blown sideways.
Footage from the Scottish Avalanche Information Service which provides information on snowpack in Torridon, Lochaber, Glen Coe, Creag Meagaidh, Southern Cairngorms and Northern Cairngorms.
Go to next video: Lorry lifted upright on Forth Road Bridge