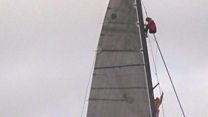 Video
Amateur sailor Gavin Reid recognised for yacht rescue
An amateur sailor has beaten an Olympic medallist to the 'yachtsman of the year' award after rescuing five crew from a stricken vessel.
Gavin Reid, who grew up in Scotland, swam to the aid of another yacht in the south Pacific Ocean.
The 28 year old had been taking part in the Clipper 2015-16 Round the World Yacht Race when he responded to the SOS call.
One man had been trapped on the mast for nine hours and was only freed after Gavin spent two hours untangling the lines.
The Yachting Journalists' Association has recognised the feat and named him 'yachtsman of the year', ahead of Olympian Giles Scott.
Footage: Clipper 2015-16 Round the World Yacht Race