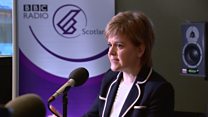 Video
Nicola Sturgeon says she could put aside indyref2 for a soft Brexit
Nicola Sturgeon has suggested a second independence referendum could be set aside if it helped create a soft Brexit.
The leader of the SNP told BBC Radio's Good Morning Scotland programme she was willing to put her own preferred option aside: "I've, in a sense, been willing and am willing to put aside my preferred option of independence in the EU to see if we can explore a consensus and compromise option".
The first minister said that "in a timescale of Brexit" she would prefer to avoid a hard Brexit which would damage the economy.
She also said education was her priority for 2017 and wanted to eliminate the attainment gap within the next 10 years.
Go to next video: Davidson wants access to the single market