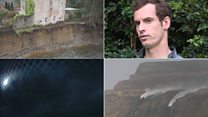 Video
Most-watched videos of 2016 on BBC Scotland News website
Watch a compilation of the most-watched videos on the BBC Scotland News website in 2016.
Strange sightings, weather, well-known figures from sport, entertainment and politics all made it into the top ten.
Top ten
The then US presidential nominee Donald Trump describing the UK vote to leave the EU as "a great thing" was the tenth most watched.
At number nine, Arnold Schwarzenegger was keen to see the sights of Edinburgh and set off cycling on the wrong side of the road, ignoring the shouts of passers-by warning him of the danger.
Back in January, Andy Murray said his family would come first in 2016. He went on to win Wimbledon again before finishing the year as world tennis number one.
Work on the Queensferry Crossing continued.
A sonar located a long-lost Nessie prop, used in The Private Life of Sherlock Holmes starring Sir Robert Stephens and Sir Christopher Lee, in Loch Ness.
In February, footage showed Storm Henry closing in over Glasgow.
Drivers across Aberdeenshire caught sight of a suspected meteor streaking across the sky.
The millionth passenger was welcomed on board the service which operates the shortest scheduled flight in the world, and was the third most-watched video of the year.
Drone footage of Abergeldie Castle teetering on the edge of flood water made it into second place.
The top spot went to a glimpse of an Isle of Mull waterfall which doubled back on itself during Storm Henry.