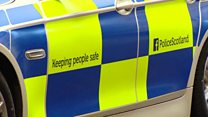 Video
Emergency services prepare for busiest weekend of the year
Assistant Chief Constable Mark Williams said he wants those out over the weekend to "know your limits" and drink responsibly.
The fire service say it is called to fires that have been started by people who have tried to cook when returning home after a night out. "Alcohol and cooking don't mix," stressed Scott Kennedy of the Scottish Fire and Rescue service. "Go to your local takeaway... or make something like a sandwich where you're not using appliances," Mr Kennedy added.
Paramedic June Maxwell said the ambulance service also anticipated more calls due to the number of people out celebrating. She said it was important to drink responsibly and wear warm clothing, as the weather is expected to be bad over the weekend.