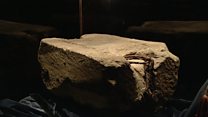 Video
20 years on from the Stone of Destiny's returns to Scotland
The Stone of Destiny returned to Scotland on St Andrew's Day 1996.
It had taken 700 years to make the journey from Westminster Abbey having been removed by King Edward I.
Former Scottish Secretary, Lord Forsyth of Drumlean, has said it was his daughter who prompted him to ask if it could be returned.
Royal consent was given and it took about 18 hours to remove the stone from the coronation chair.
The stone can currently be seen, alongside the Honours of Scotland, in Edinburgh Castle.
Organisers of Perth's bid to be UK City of Culture 2021 have said they want to see the stone restored to its "historic home".