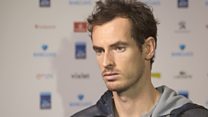 Video
Andy Murray tells of family sacrifice to hone world number ones
Andy Murray has thanked his family for the sacrifices they made to help ensure that he and brother Jamie have succeeded in their chosen sport.
Each brother is year-end world number one in tennis men's singles and doubles respectively.
Andy beat Novak Djokovic in the ATP World Tour Finals to hold on to the top spot in the rankings on Sunday.
Jamie Murray had already claimed the men's doubles ranking with Bruno Soares earlier this month.
Andy told BBC Scotland that parenthood has given him a better understanding of the efforts his family went to: "Many of them have made a lot of sacrifices for us over the years, they've been through all of the ups and downs ...so we have a lot to thank them for."
Go to next video: 'Very special day' for number one Murray