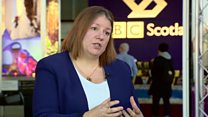 Video
Prof Sue Ellis: 'Schools are part of the solution to inequality'
Education expert Prof Sue Ellis tells BBC Scotland's Douglas Fraser that schools are part of the solution to tackling inequality in society.
The Strathclyde University academic said: "Some of those who are the most gifted are children in poverty, who are gifted but not getting support. We're not identifying the children who are most gifted.
"What we may be doing is giving a lot of advantage to quite mediocre children who have the most pushy parents."
Throughout this week, BBC Scotland news has been looking at inequality of income, wealth, education and health.