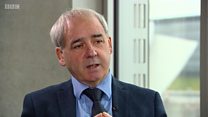 Video
Professor David Bell: Scotland 'not as unequal on wealth' as UK
Stirling University's professor David Bell says wealth inequality in Scotland is not as wide as it is for the UK as a whole.
Speaking to BBC Scotland's business and economy editor Douglas Fraser, the academic explained that the lower cost of property north of the border has made Scotland less unequal.
He also said that one "huge factor of inequality that people do not realise" when thinking about wealth is that of pensions.
Prof Bell, who has been speaking to the BBC which is looking throughout this week at whether Scotland is an unequal society, said pensions were the major component of wealth inequality.
Go to next video: 'Scotland is unequal in income terms'