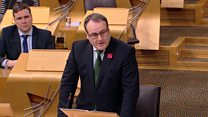 Video
Minister Paul Wheelhouse details economic report on fracking
One of six expert reports published by the Scottish government estimated that 1,400 jobs would be created if fracking was allowed in Scotland.
The Scottish government has announced a consultation into unconventional oil and gas to begin in early 2017.
Energy Minister Paul Wheelhouse detailed the findings of the studies into the potential impact of fracking and said research by KPMG into the economic outcomes had projected that the industry would create only 1,400 jobs and account for 0.1% of GDP.
Mr Wheelhouse said that this must be balanced with Holyrood's commitment to carbon reduction and climate change.