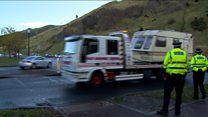 Video
IndyCamp protestors evicted from Scottish Parliament land
Independence campaigners have been evicted from the Scottish Parliament estate, despite having applied for leave to appeal their case in the UK Supreme Court.
The IndyCamp group had been ordered to leave Holyrood after a series of rulings in Scottish courts.
The group insisted that they were not given a fair hearing and had applied for permission to appeal in London.
The Scottish Parliament had obtained an order to have the camp removed, although it said its "clear preference" was for the campers to leave voluntarily.
The camp was set up on the parliamentary estate in November 2015, with the goal of staying in place until Scotland becomes independent.