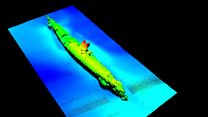 Video
Sea monster tale surrounds UB-85 sinking
The wreck of a German U-boat that sank almost 100 years ago has been discovered by engineers laying subsea power cables.
Sonar images show the vessel lying largely intact off the Galloway coast.
Gary Campbell, registrar of sightings at Loch Ness, says that upon surrendering, the boat's crew relayed a tale of having fought a sea monster.
The tale is dismissed by experts who believe that the vessel could be the UB-85, a sub sunk in 1918, according to official records.
Historian and nautical archaeologist Dr Innes McCartney is not convinced by naval folklore and says that the sub's inexperienced crew were responsible for its sinking.