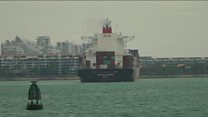 Video
Stranded cadet Ruaridh Hanna tells of South China Sea ordeal
Four Scottish based merchant navy cadets, stranded on a container vessel in the South China Sea, have arrived at port in Singapore.
The officer trainees from the City of Glasgow College had been stranded on the ship after its operators, Hanjin, filed for bankruptcy.
Ports around the world had been reluctant to let the company's vessels dock for fear that they would not be paid.
Ruaridh Hanna told BBC Scotland that poor communication while on board was frustrating but that the experience will not deter him from returning to serve at sea.
Go to next video: Stranded cadets' ship docks in Singapore