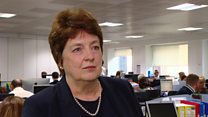 Video
'Schools doing well', says Scotland's exams body
The body responsible for overseeing Scotland's exams system says it believes it is performing well.
Students across the country are receiving the results of their National, Higher and Advanced Higher exams.
Janet Brown, chief executive of the Scottish Qualifications Authority, says "greater personalisation and choice" in schools is allowing pupils to undertake a wider range of qualifications, something which is at the heart of curriculum for excellence.
Increased literacy in the English exams and an upward trend for pupils who perform well at one level then continuing to do well at subsequent levels were also highlighted.