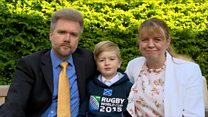 Video
Brain family want to 'settle in the Highlands'
An Australian family facing deportation from the Highlands have said they are hopeful of securing a job offer before the midnight deadline.
Kathryn Brain arrived in Dingwall, with her husband Gregg and son Lachlan, on a student visa in 2011.
The Home Office changed the rules on the post-study work visa, which means the family can no longer remain in the UK unless, like all visa applicants, they meet immigration rules.
The Brain family has been speaking to BBC Breakfast, and say they always wanted to settle in the Highlands given their family connections with the area.
Go to next video: Conti offers £3000 to stop deportation