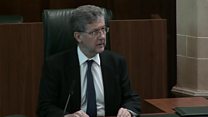 Video
Supreme Court rules against Named Person scheme
An appeal against the Scottish government's Named Person scheme has been upheld by the Supreme Court.
Opponents of the proposals had taken their appeal to London after their case was dismissed by Scottish courts.
Under the plans, a single point of contact, such as a teacher or health visitor, would be assigned to look out for the welfare of children under 18.
Delivering the ruling, Lord Hodge said that information-sharing provisions under the 2014 Act could result in disproportionate interference with Article 8 rights under the European Convention on Human Rights, the right to a family and private life; and risked breaching guidelines on privacy and confidentiality.
The Scottish government has 42 days to amend its proposals.