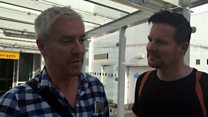 Video
TV's Colin and Justin caught up in Air Transat flight delay
Two pilots arrested at Glasgow Airport, in relation to being allegedly impaired through alcohol, are expected to appear at Paisley Sheriff court.
The BBC understands the men were the captain and first officer of an Air Transat plane which was due to fly from Glasgow to Toronto on Monday.
They have been charged under Section 93 of the Railways and Transport Safety Act 2003 which specifies that the maximum amount of alcohol permitted to be in a pilot's blood before he takes control of an aircraft is 20 mg in every 100 ml of blood.
TV personalities Colin McAllister and Justin Ryan, who were passengers on the flight, told BBC Scotland that the experience would not deter them from flying with the airline.