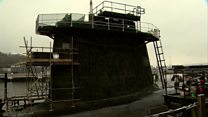 Video
Politicians are divided over Trident nuclear replacement vote
MPs will vote on plans to replace the submarines that carry Britain's Trident nuclear missiles.
All but one of Scotland's 59 MPs will vote against the plans which the UK government has said will cost at least £31bn.
UK Defence Secretary Michael Fallon told the BBC that retaining a nuclear deterrent is essential for the UK's security, against as yet unknown threats, over the next 40 to 50 years.
Scotland's only Labour MP Ian Murray said it was a conscience vote that has split opinion in the party.
SNP defence spokesperson Brendan O'Hara said the vote was being used to unite the Conservative Party following a period of infighting.
Listen to the full interviews on BBC Good Morning Scotland.